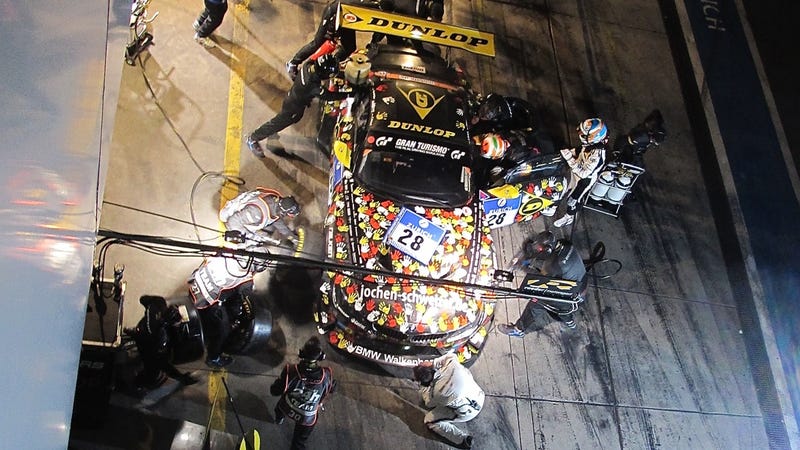 With our ol' boy Chris Harris driving an Aston Martin V8 Vantage GT4 in the Nürburgring 24, I tagged along to find out what happens behind the scenes of what can only be described as the German Woodstock of Cars. Here's what I found.
Before The Race: Going Camping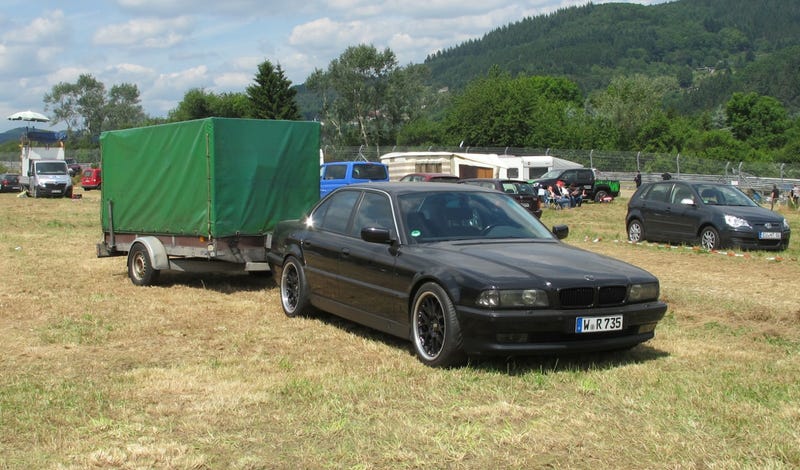 If you're a hardcore N24 attendee, you did something like this: Sometime during the lead-up to the race, you packed a spec-built trailer with all the accouterments you'd need for the campsite you've perfected over years of N24 attendance. Those are, in order, beer, shelter, cooking gear, fire pit, beer, currywurst, auxiliary power, TV monitor, 4G internet, beer, Christmas lights, bed roll (as if) and beer.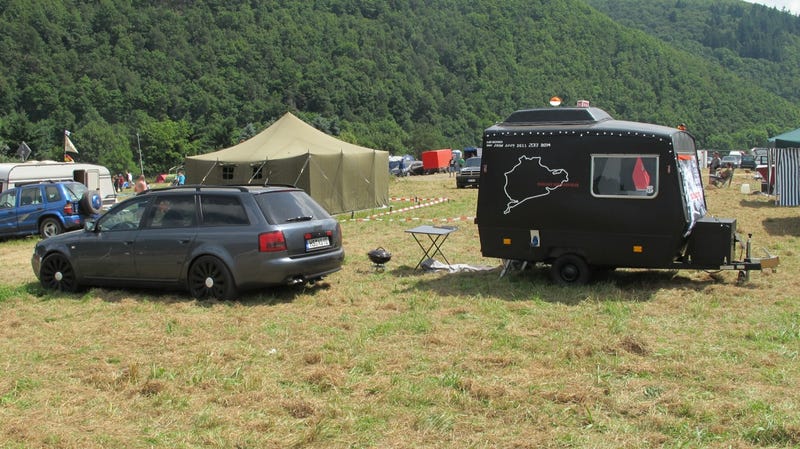 You've hitched the trailer behind your modified German sports sedan (or wagon) and made the trip from Dusseldorf or Cologne (or Manchester, Prague, Warsau, Pisa or Marselles), and arrived at a campsite situated on one of many great sequences of corners on which to see the race. Naturally, you've chosen high ground just in case it rains, which it does most years (though, surprisingly, it stayed cool and gorgeous every day this year), and access to potable water and port-a-Johans.
Walking The Grid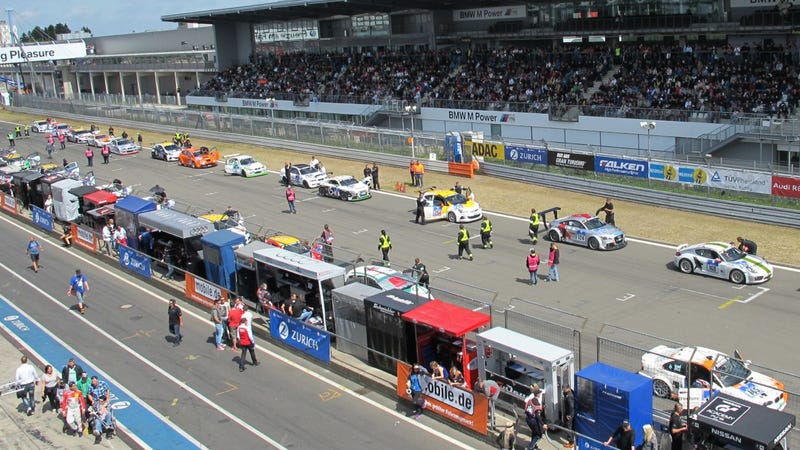 Walking the grid before the race is where you get the full breadth of the N24 undertaking. At the back, you'll see a mind-boggling range of economy race cars like the Opel Astras, Renault Clios and Toyota FT-86's, and a range of relatively elderly models like a gaggle of E46 BMW's, a Mark III VW GTI, a Mazda MX-5 (naturally) and a 25-year-old Opel Manta.
Mid-pack starts with Ford Focus RS's and evolves to Porsche Caymans and 911 Cup Cars, Audi TT-RS's, BMW 235i's and Z4s and a lone Subaru STI, closer to the front, a Dodge Viper (though, strangely, no Corvettes) are several GT4 Aston Martin V8 Vantage race cars, Then at the head of the pack, a load of fire-breathing GT3 race cars from Mercedes-Benz AMG, Porsche, BMW, McLaren, Audi and Aston Martin. That's when you realize the closing speeds in this race could top 60 miles per hour, and you say a silent prayer for everyone involved.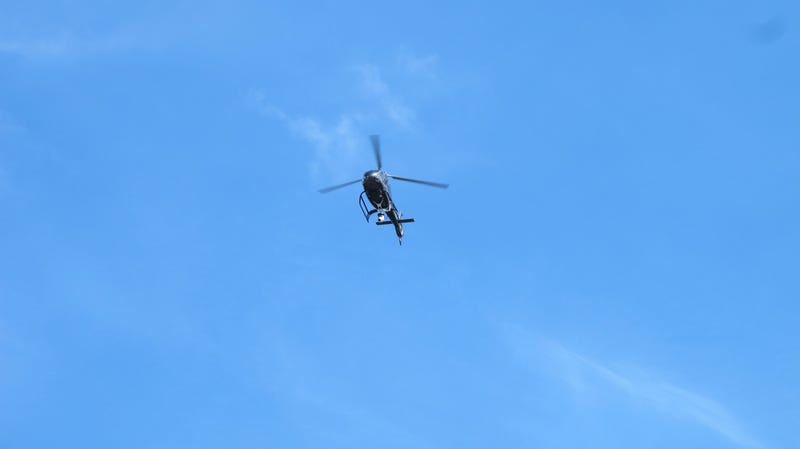 Camera 'copters are a constant presence at the N24, as they search the field for good battles and hover over crash sites.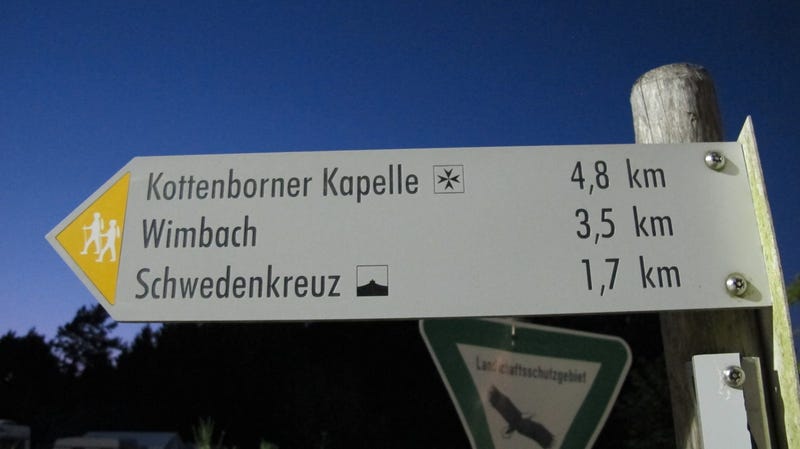 The Nürburgring winds through some of the most picturesque parklands in the Eifel region, making race-camping a perfect way to combine motorsports with a really long walk among the hills. If we start now, we'll make the Schwedenkreuz corner by sun-up.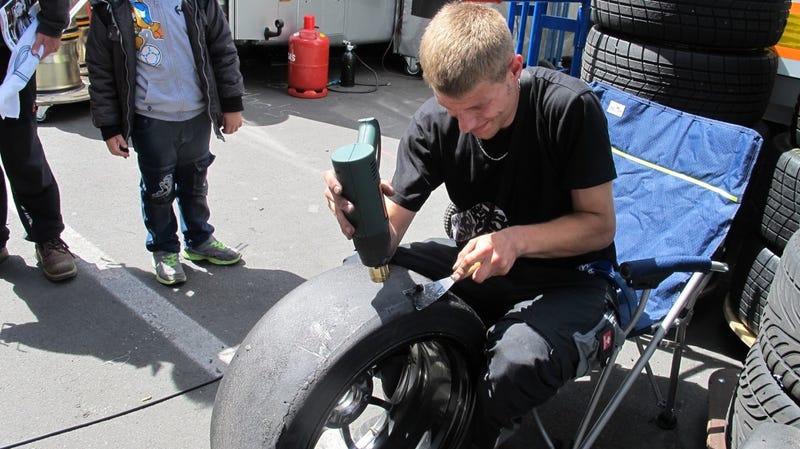 With many hours to go, this guy — intern, brother-in-law, once-twice-three-shoot loser — gets the unenviable task of cleaning sloppy slicks with a heat gun and scraper. For smaller teams, the N24 is a club race, and the less well-heeled must be resourceful.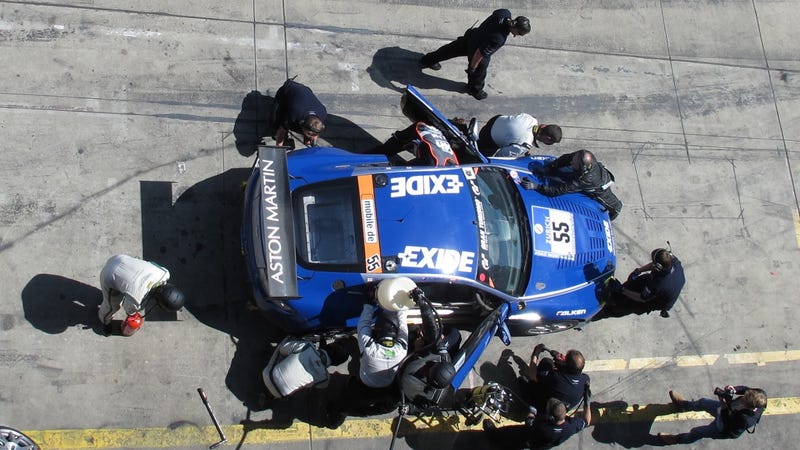 Aston supported several Vantage racecars competing in the SP8 class, including the V12 Vantage above, and also in the SP10 class, which comprises GT4-spec cars, like the one Travis drove at Monticello.
Camping Out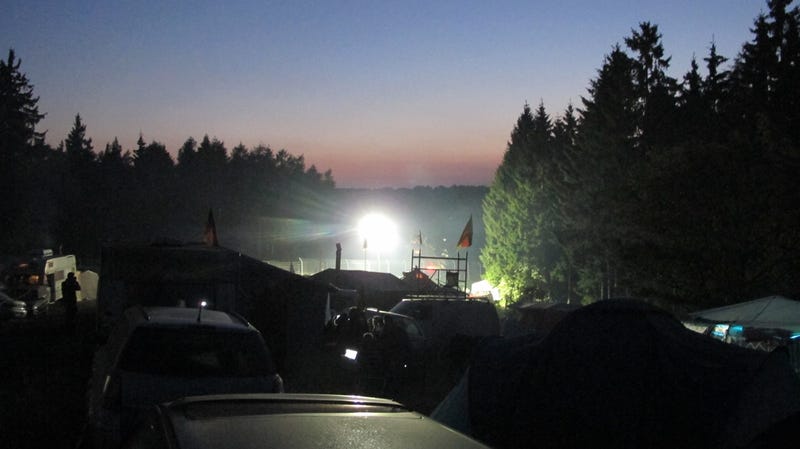 In this part of the world, the sun sets after 10 pm. By 10:30, spectators watching the race from above Hocheichen do so under a still-glowing sky.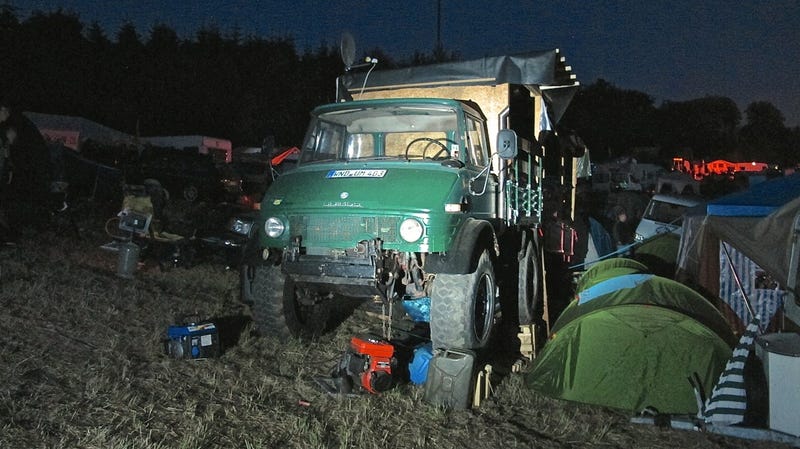 These guys used an old Unimog (swoon!) as a support vehicle, and makeshift RV and viewing station.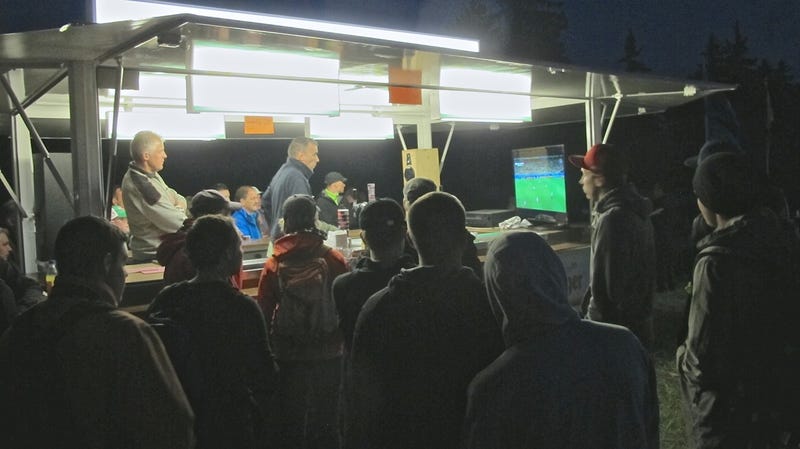 A beer stand becomes a provisional barroom as German fans turn their attention to the World Cup game between Germany and Ghana. It ends in a tie, which can't be said about the event they're actually here to see.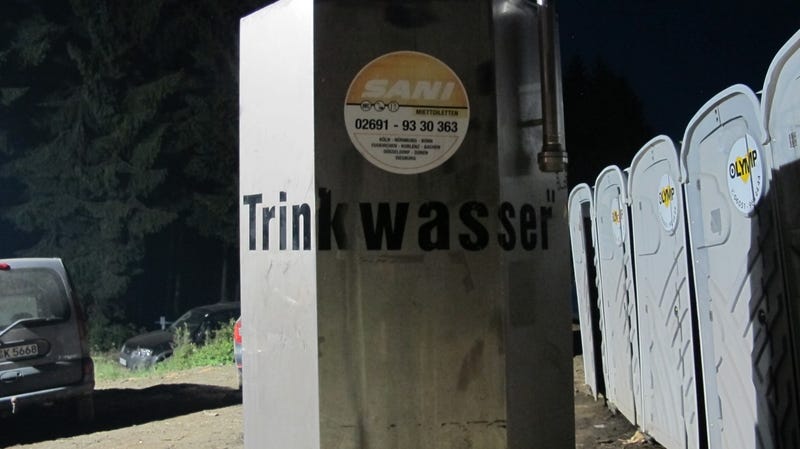 Stay hydrated, Nürburgring. And, you know.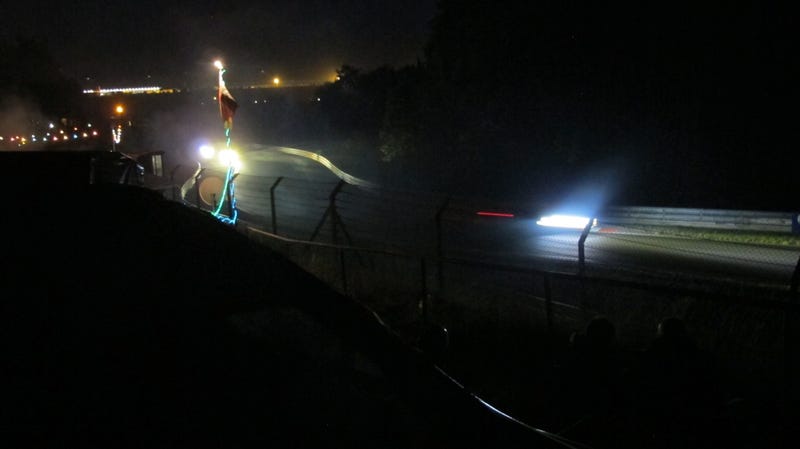 By 11:00 pm, the sun finally retreats fully on the campsites near Hatzenbach.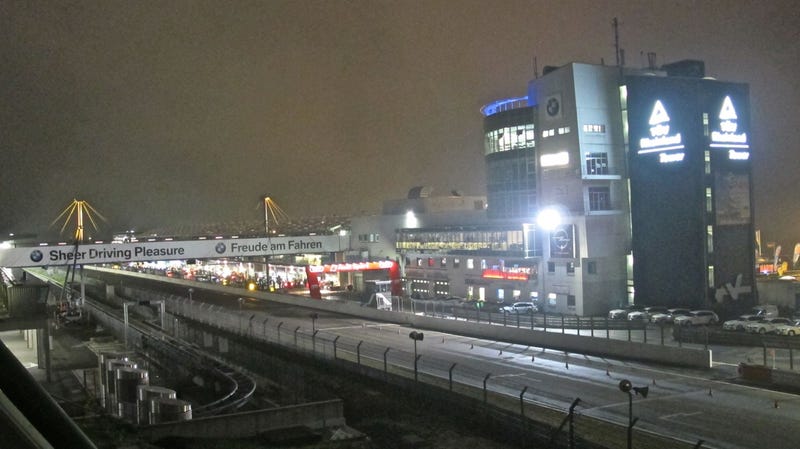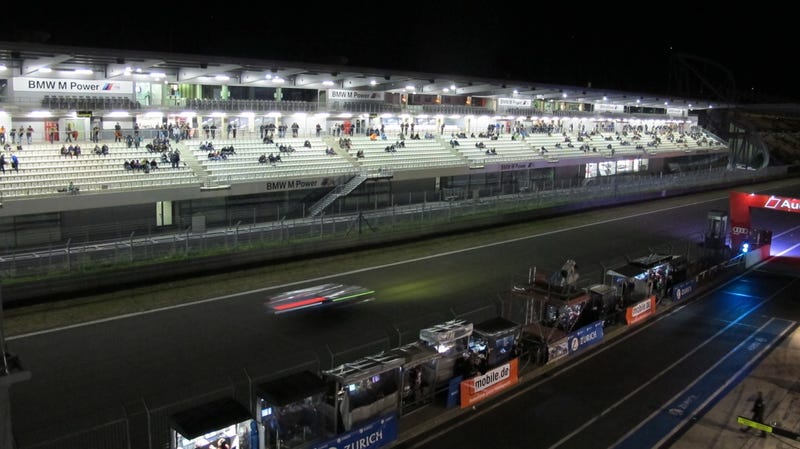 Back at the front straight, the crowd thins out as drivers settle in for their grueling after-midnight stints.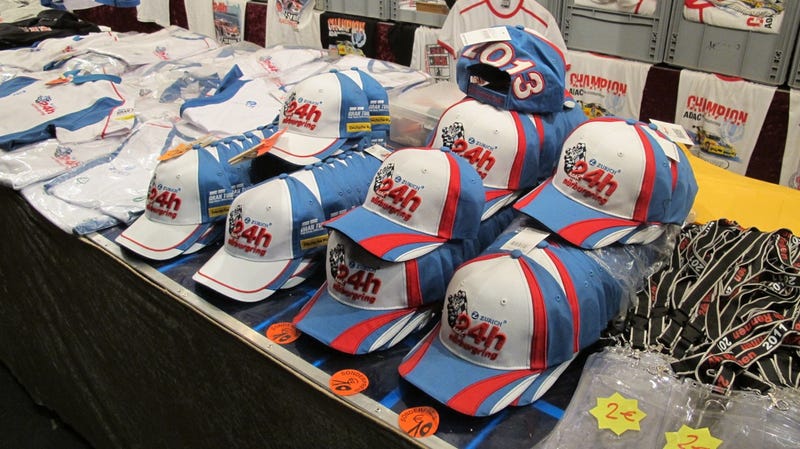 With 12 hours still to go in the race, it's time to buy a hat.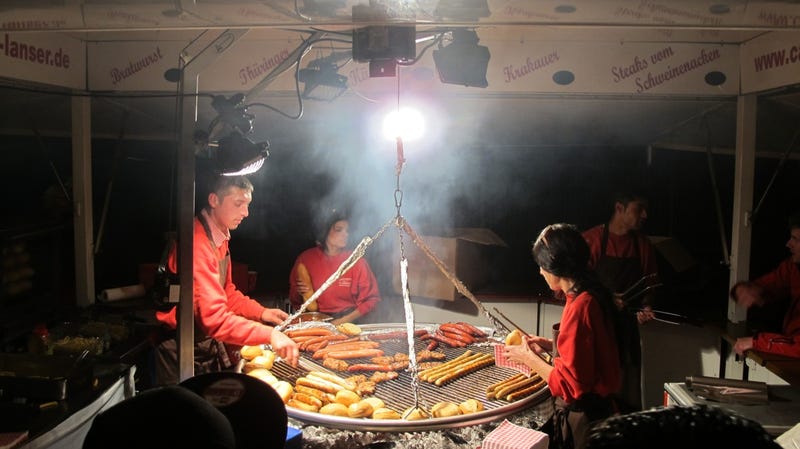 And some wurst.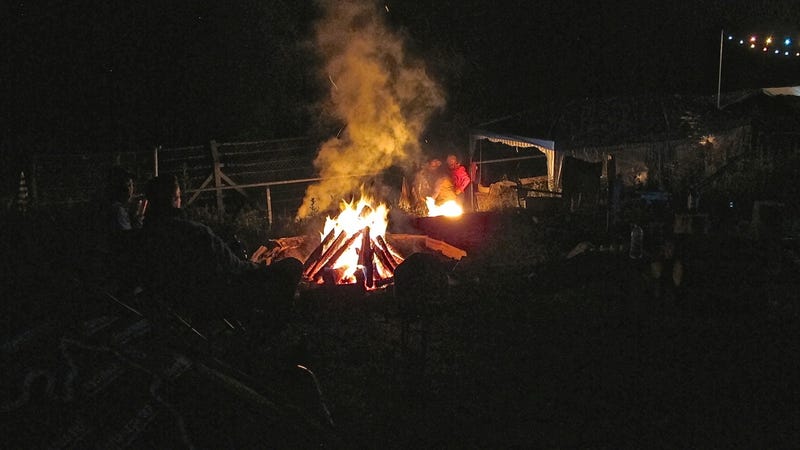 And light a fire.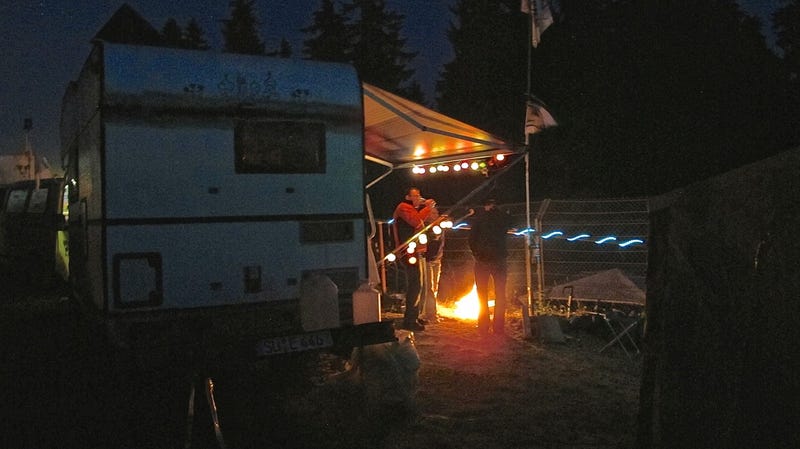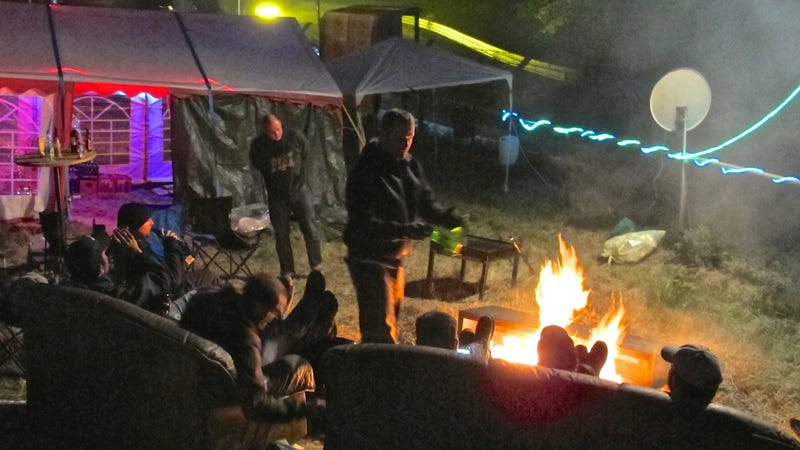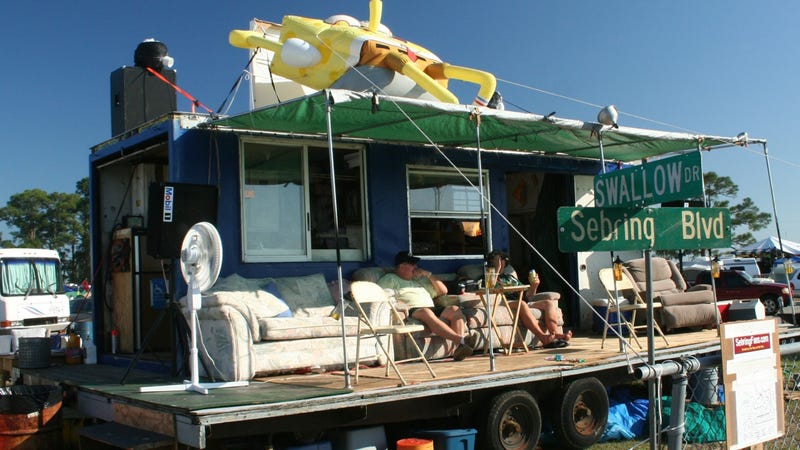 What do Sebring fans and Nürburgring 24 fans have in common? Probably a lot of things. Couches, definitely.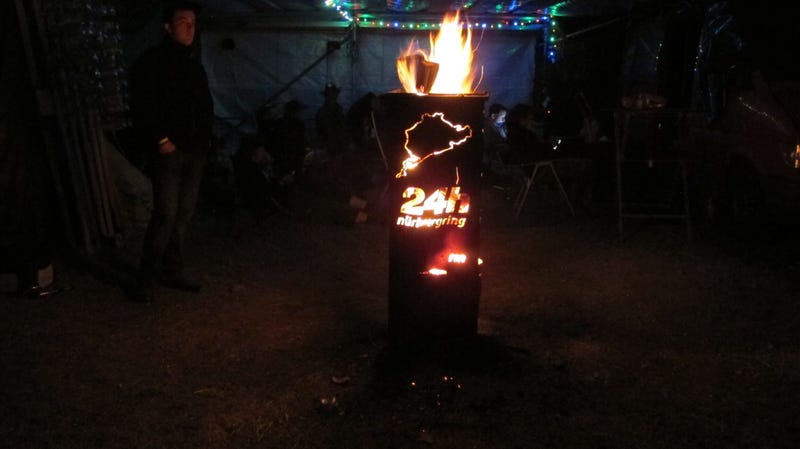 Intrepid drinkers keep the fires burning long into the night. The laser-cut steel fire barrel is a nice touch. I was told there would be satanists, but I must have been at the wrong campsite. Only 10,000 acres to go.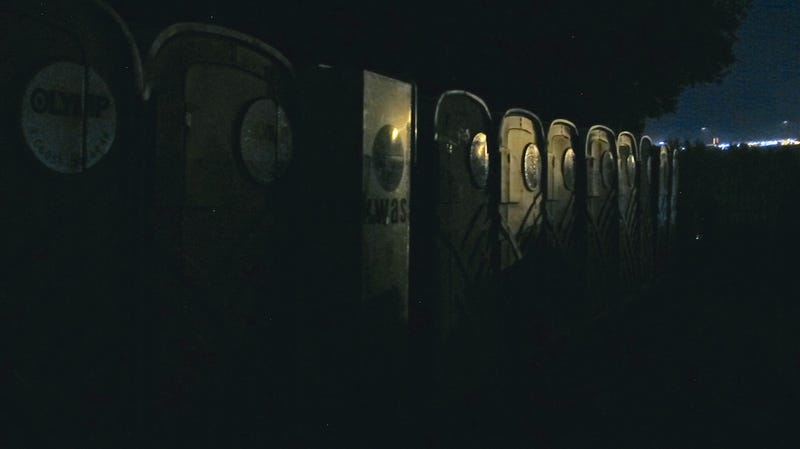 For campers without RVs, this foreboding lineup is your destination if you simply must.
The Next Morning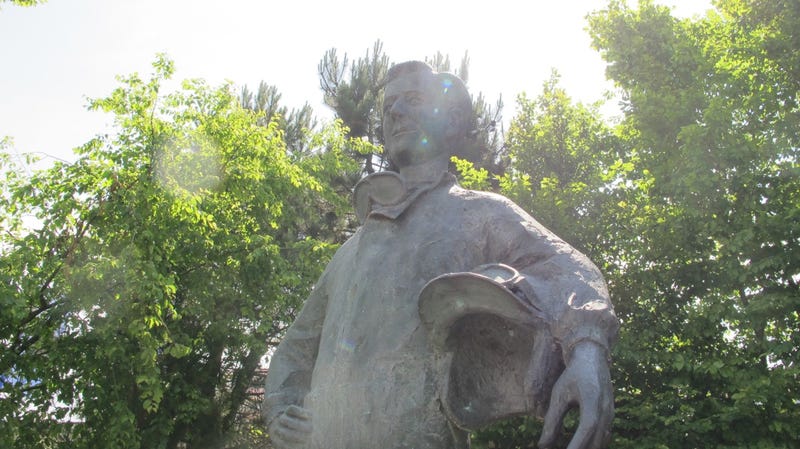 Wolfgang Von Trips greets the day with typical wry smile.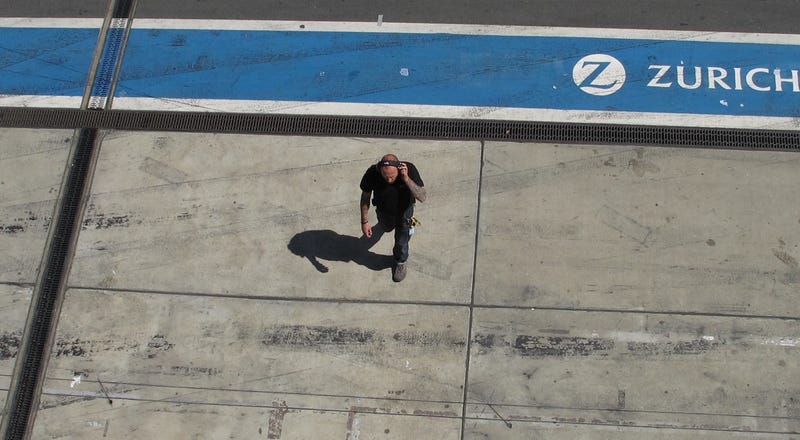 A moment of early-morning solace for a crewman, before the stressful final hours.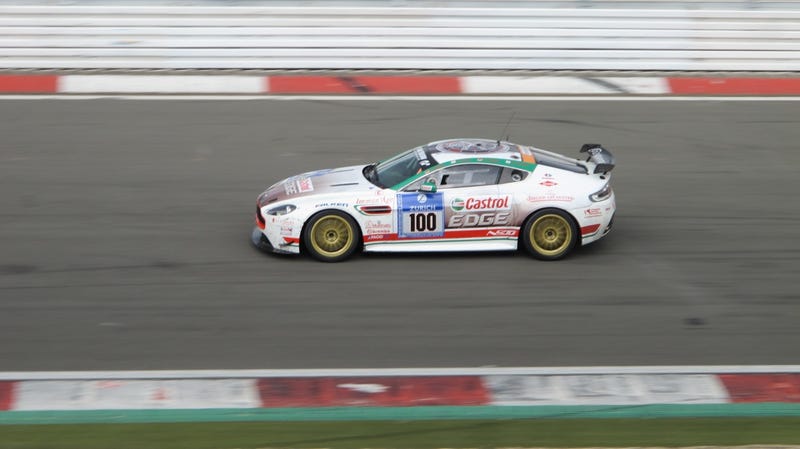 Our ol' boy Chris Harris continues his double stint in the Aston Martin V8 Vantage GT4. There's something deeply special about racing the N24 at dawn, or as he says eloquently, "in the gloaming." Masterpiece Theatre called...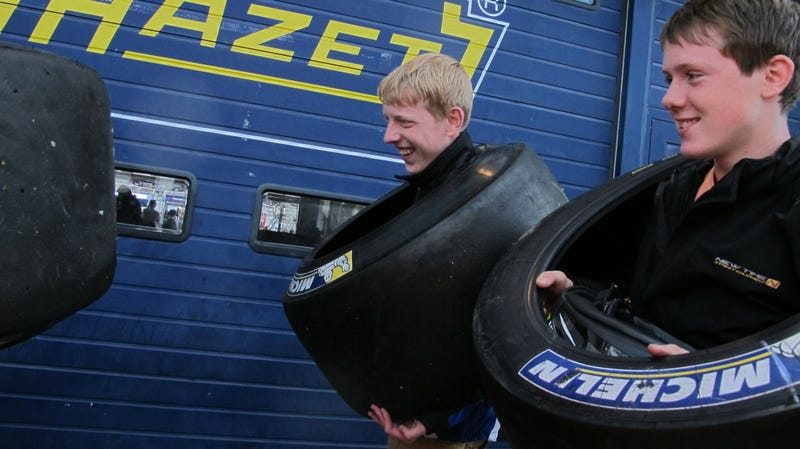 Fans take home souvenir racing slicks wrung-out on the course. Tire suppliers bring tens of thousands of slicks to the Nürburgring 24. Dunlop alone brought 4,000.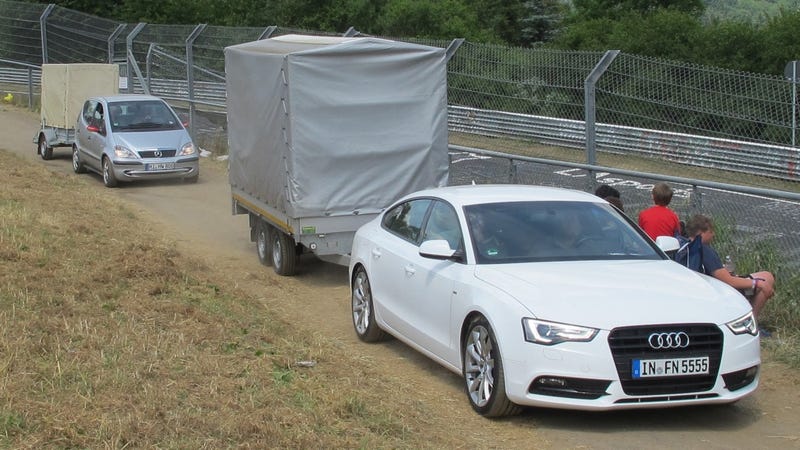 The more practically-oriented, and less hung-over race fans pack up and head out early to beat the traffic.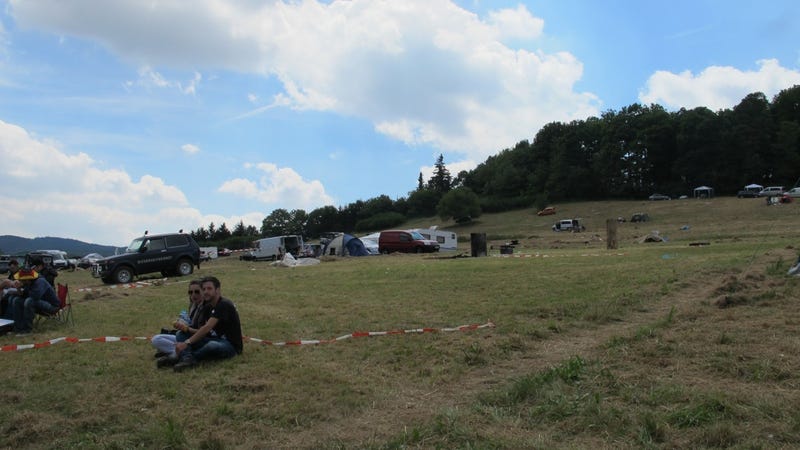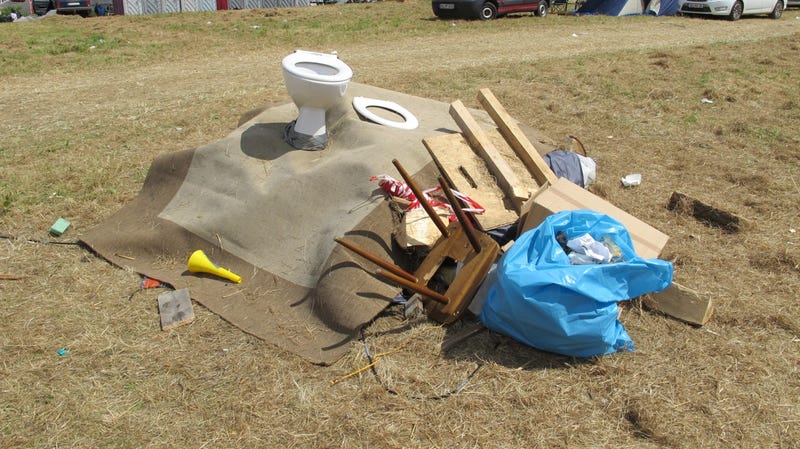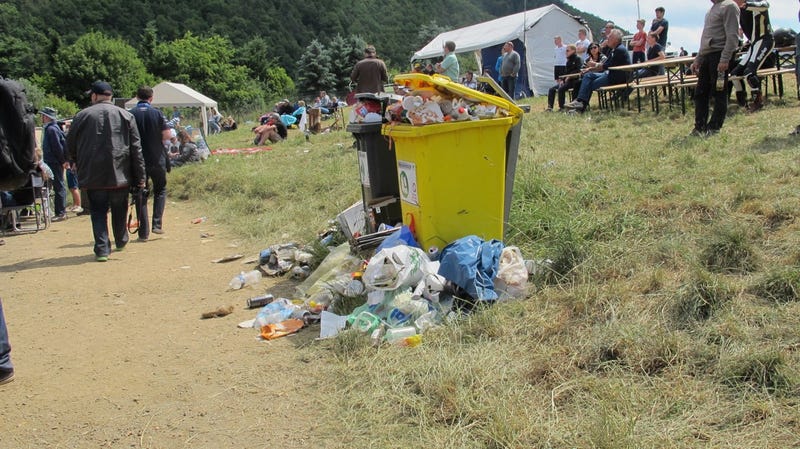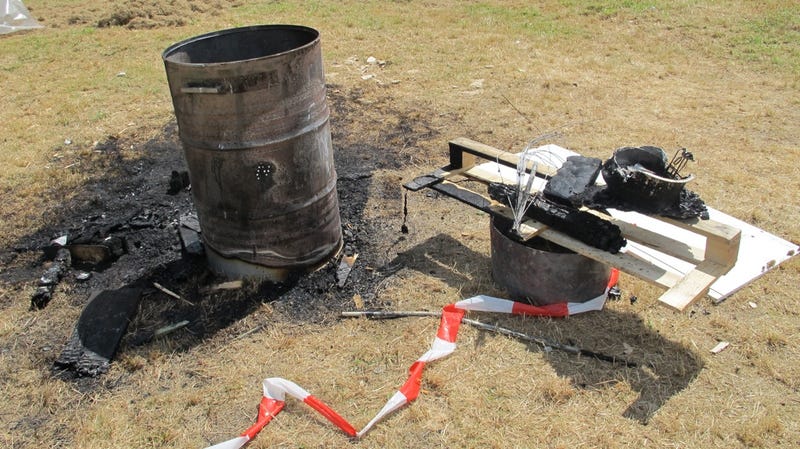 With more than 100,000 people showing up, and only a two-lane road out, it's a smart move to bounce early. Of course, their leave-behinds challenge the "facilities."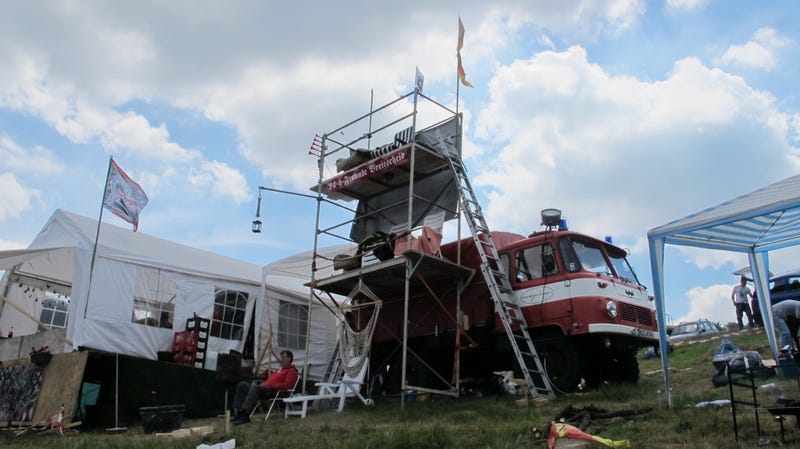 This guy's had it.
The End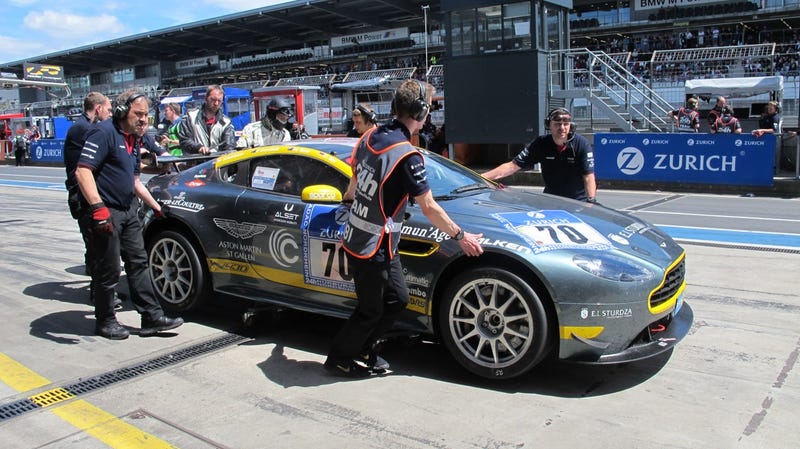 The #70 Aston Martin V8 Vantage driven by CEO Ulrich Bez is in the pits. It goes back out, although it takes an extra bit of mechanical sympathy to get to the end.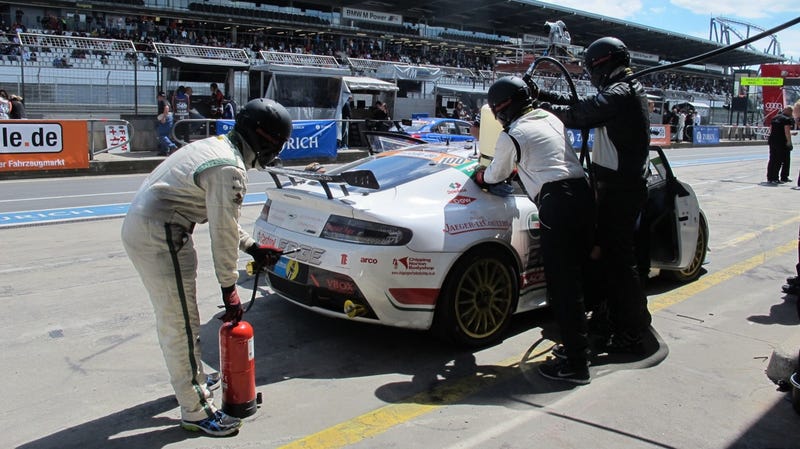 After getting tagged by a GT3 car in the night, The SP10 team of Harris, UK journalist Dickie Meaden and Nürburgring-ers Oliver Mathai and Andreas Gülden fought back to finish second in class. Good show!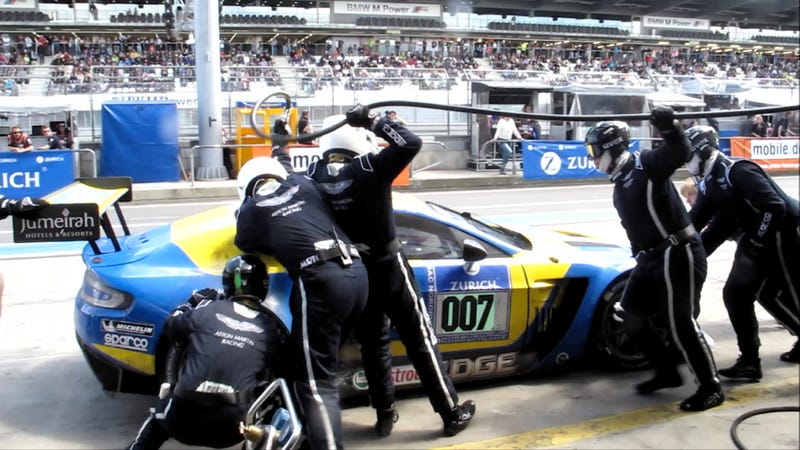 The checkered flag drops promptly at 4 pm. For cars behind the finish line, the race is over. For cars in front, it's another lap. Aston Martin driver Pedro Lamy engages in a fierce, final battle against #20 BMW Sports Trophy Team Schubert driver Dominik Baumann to take fifth place overall. Ultimately, Lamy prevails, after a brave wheel-off outside pass traps the BMW in traffic.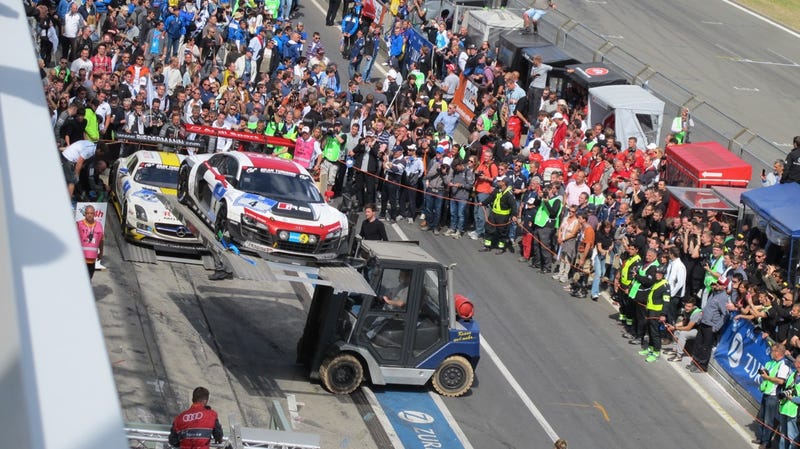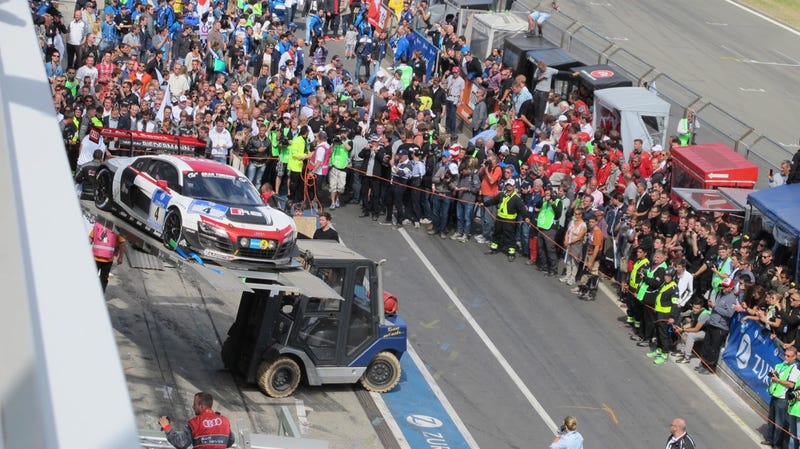 The podium cars — #4 Phoenix Racing Audi, #1 Black Falcon Mercedes and #22 Rowe Racing Mercedes are lifted up onto pedestals that workers slap together in minutes in pit lane after the race ends. Fans swarm. The anticlimax, always a risk for fans waiting out long endurance races, is upon us.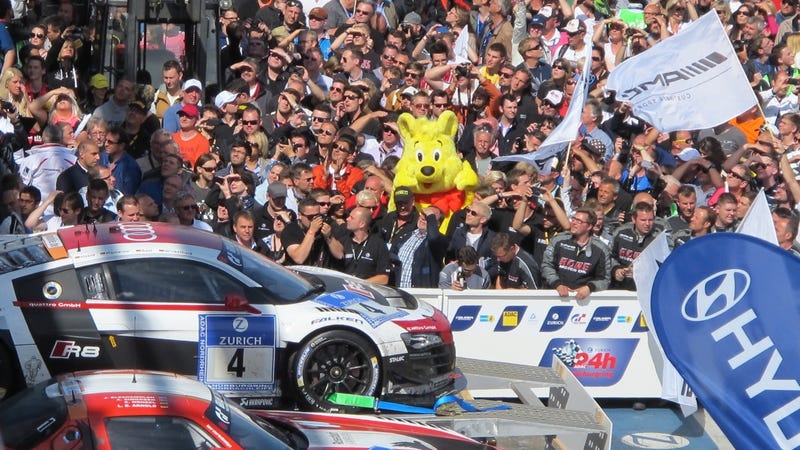 Still, the Haribo bear — sponsor of the Haribo Racing Porsche 997 GT3 R — gives the thumbs up, despite his team's unfortunate DNF after a collision with a slower car. Always happy, that guy.